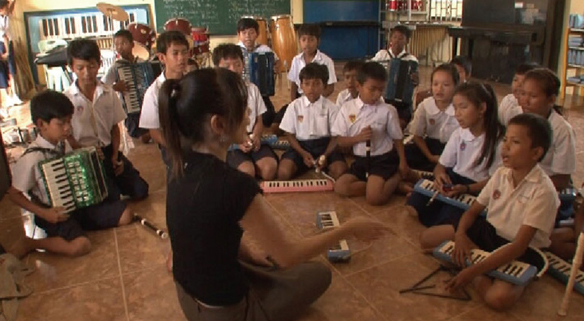 Ms. Chii's Little Band:
Bringing Songs and Smiles to the Children of Cambodia
ENTERTAINMENT
2012
54 min
Episode(s): 1

english
English

2013 New York Festivals Silver Award.
In this program, a female teacher from Hokkaido travels to Cambodia alone to teach music at the country's largest elementary school in Siem Reap. She reveals the struggles she encounters in her efforts to help her students.
Chigusa Tanaka (33) is a volunteer for JICA's Overseas Cooperation program, and was sent to Cambodia as an elementary school teacher. Even now, she is still doing volunteer work with Cambodia's elementary education system. She also fosters 6 children who are unable to live with their own parents due to poverty or abuse. The students affectionately call her 'Ms. Chi.'
"Education is vital in order to allow children to grow and become independent and helps them to see a bright future for their country. The education system is still not fully recovered from years of internal conflict in Cambodia, so I want to be a part of that recovery", Chigusa says with great conviction.
Chigusa helps start up the country's first school music program, by collecting instruments such as melodicas that are no longer being used in Japan. She creates sheet music entirely by herself and begins by teaching the students 'Do-Re-Mi', and before long, a small orchestra forms. The band raises money by taking part in a street parade, and the funds are used to make a music room for the school.
By joining with the other teachers, Chigusa coordinates the very first school music festival ever held in Cambodia, with the entire school participating. The music festival helps foster the children's independence, and gives the teachers responsible for their education a sense of empowerment and renewed confidence, that anything is possible.
Customers who watch this video also watch